Nicki Minaj's Husband Kenneth Petty Asks Judge To Allow Him To Travel For Their Child's Birth.











US halts cooperation with UN on potential human rights violations
Get link

Facebook

Twitter

Pinterest

Email

Other Apps
Exclusive: State department has ceased to respond to complaints from special rapporteurs in move that sends 'dangerous message' to other countries
Protect independent, investigative journalism with a contribution and help us reach our $1m goal by 7 January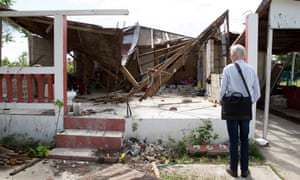 UN special rapporteur Philip Alston inspects damage by Hurricane Maria in Salinas, Puerto Rico, on 10 December 2017. Alston castigated the Trump administration for aggravating levels of inequality. Photograph: José Jiménez-Tirado/Getty Image
major blow to vulnerable US communities and sends a dangerous signal to authoritarian regimes around the world.
The silent treatment being meted out to key players in the UN's system for advancing human rights marks a stark break with US practice going back decades. Though some areas of American public life have consistently been ruled out of bounds to UN investigators – US prisons and the detention camp on Guantánamo Bay are deemed off-limits – Washington has in general welcomed monitors into the US as part of a wider commitment to upholding international norms.
Jamil Dakwar, director of the American Civil Liberties Union's human rights program, said the shift gave the impression the US was no longer serious about honoring its own human rights obligations. The ripple effect around the world would be dire.
"They are sending a very dangerous message to other countries: that if you don't cooperate with UN experts they will just go away. That's a serious setback to the system created after World War II to ensure that domestic human rights violations could no longer be seen as an internal matter," Dakwar said.
It is not known whether the decision to sever cooperation with the UN monitors was directly related to the spat over Alston's report. But emails seen by the Guardian involving top US state department officials in Geneva show that by July they were rebuffing contact with international agencies on grounds that they were "considering how best to engage with special procedures", the blanket term for the network of UN special rapporteurs.
In a statement to the Guardian, the state department declined to explain why it was no longer responding to UN experts or to say whether non-cooperation was now permanent policy. A spokesman said the US remained "deeply committed to the promotion and defense of human rights around the globe", but pointedly omitted any reference to US compliance domestically.
Similarly, the spokesman expressed "strong support" for UN special rapporteurs, but only in the context of their investigations into other countries. The US backs those mandates "that have proven effective in illuminating the most grave human rights environments, including in Iran and DPRK [North Korea]", he said.
Paradoxically, the Trump administration's decision to shun the UN's independent watchdogs places the US among a tiny minority of uncooperative states. There are very few countries that resist international oversight from UN special rapporteurs – one of them is North Korea.
Individual UN experts expressed dismay at the US cold shoulder they are now receiving. Alston said the move would set "the most unfortunate precedent as the US has always tried to press other countries to be accountable. This sends a message that you can opt out of routine scrutiny if you don't like what is being said about your record on human rights."
"In the absence of an official visit, we cannot publish a country report to be presented to the UN human rights council," he said.
Get link

Facebook

Twitter

Pinterest

Email

Other Apps
Popular posts from this blog
Helicopter was on mission to scare troublemakers, says IGP
• PDP kicks, says explanation 'speaks volumes'
• Dickson rejects results, says election was military coup The Inspector General of Police, Mohammed Adamu, yesterday blamed the
Zlatan Ibile
 has sparked online debate after releasing a snippet of his song dissing Tacha's body odour.
Nigerians have reacted following the release of a snippet video by musician, 
Zlatan Ibile
mocking
Kenya on Friday became the third country to start routinely innoculating infants against malaria, using the world's first vaccine to combat a disease that kills 800 children globally every day. The vaccine -- RTS,S -- targets the deadliest and most common form of malaria