Nicki Minaj's Husband Kenneth Petty Asks Judge To Allow Him To Travel For Their Child's Birth.











'My choice': Ilhan Omar becomes first to wear hijab in US Congress
Get link

Facebook

Twitter

Pinterest

Email

Other Apps
Congresswoman overcomes 181-year headwear ban while Rashida Tlaib takes oath on Qur'an that belonged to Thomas Jefferson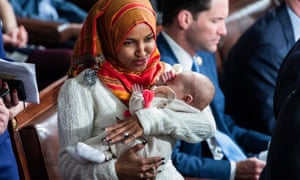 Ilhan Omar holds the child of the Democratic representative Eric Swalwell during Thursday's ceremonies. Photograph: Jim Lo Scalzo/EPA
Twenty-three years after leaving a refugee camp in Kenya, Ilhan Omar on Thursday became the first member of the
US Congress
to wear a hijab.
Rules were changed to allow Omar, a Muslim sworn in on the Qur'an, to wear a religious head covering on the floor of the House. There had been a 181-year ban on
headwear of any type in the chamber.
"No one puts a scarf on my head but me,"
she tweeted last November
. "It's my choice – one protected by the first amendment. And this is not the last ban I'm going to work to lift."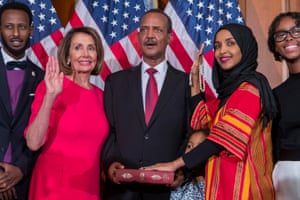 Omar, 36, from Minnesota, tweeted: "As a kid, I acted as my grandfather's translator at our caucuses and he was the one who first sparked my interest in politics. I wish he could be here to witness this historic moment, but he was here in spirit as I placed my hand on his Quran for the ceremonial swearing in."
The normally staid chamber also bubbled with the sound of children. Congressman Eric Swalwell rocked his infant daughter, Cricket, on the House floor. Omar stopped by to take a turn holding the baby.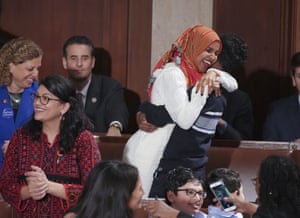 She was one of the first two Muslim women elected to Congress.
The other was Rashida Tlaib
, who did not wear a hijab. Tlaib took the oath on a Qur'an – a 1734 English translation that belonged to the former president Thomas Jefferson.
Tlaib wore a traditional thobe stitched by her Palestinian-born mother.
When she stood to cast her vote for Nancy Pelosi as speaker, Tlaib's sons, Adam, 13, and seven-year-old Yousif, were standing by her side.
This really happened. I am U.S. Congresswoman. Not bad for a girl from southwest Detroit who didn't speak English, daughter of Palestinian immigrants.

#

13thDistrictStrong

: You helped change Congress forever. Now, let's get to work to change our neighborhoods.

#

rootedincommunit

y
"Then Adam shouted Pelosi's name, too, and both followed that with a 'dab' – a move favored by tweens in which the nose is nudged inside one elbow while the opposite hand is raised overhead," the Associated Press reported. "Bella Kaufman saw it. Pelosi's granddaughter, nine, jumped up from her seat in the second row and returned the salute. The House's legions of parents of both parties chuckled.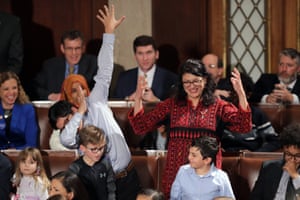 Pelosi was comfortably
returned to the post of House speaker
, making her once again the most powerful woman in American politics. The 78-year-old invited at least two dozen children to join her on the dais as she was sworn in, calling the House to order "on behalf of all of America's children".
Get link

Facebook

Twitter

Pinterest

Email

Other Apps
Popular posts from this blog
Helicopter was on mission to scare troublemakers, says IGP
• PDP kicks, says explanation 'speaks volumes'
• Dickson rejects results, says election was military coup The Inspector General of Police, Mohammed Adamu, yesterday blamed the
Operatives of the National Agency for the Prohibition of Trafficking in Persons, NAPTIP, have arrested a 62-year-old man in Kano State for chaining and locking up 16-year-old
Kenya on Friday became the third country to start routinely innoculating infants against malaria, using the world's first vaccine to combat a disease that kills 800 children globally every day. The vaccine -- RTS,S -- targets the deadliest and most common form of malaria