Breaking: PDP Presidential Candidate Atiku Abubakar in US to meet with Congressmen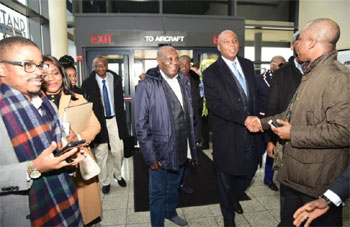 During his working visit to Washington DC, PDP Presidential Candidate Atiku Abubakar will engage in bilateral meetings with a high powered, bi-partisan delegation of US congressmen who
are deeply concerned and troubled about the future of democracy in Nigeria.
The delegation is seeking Vice President Atiku Abubakar's views on how best the United States can support Nigeria in ensuring democracy at all levels and more importantly ensuring the will of the people prioritised at all times. His Excellency will have several other meetings with business leaders, high ranking US government officials, thought leaders and Nigerians in the diaspora.
His critics had told Nigerians that he would never travel to US because of some corruption charges leveled against him.