Activist 'upset' that Trump employees secretly photographed her urinating
Rohan Beyts suing Trump's Aberdeenshire resort after it claimed she breached decency laws on the course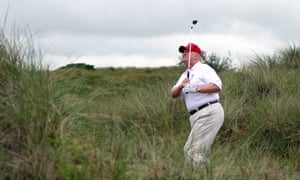 Rohan Beyts, an environment activist, has told a court she felt "really upset" after learning that Donald Trump employees had secretly photographed her allegedly urinating on his golf course.
Beyts is suing the president's golf course in Aberdeenshire, Scotland, for breach of privacy after its executives called in the police following the incident in April 2016, accusing her of committing a public nuisance.
A longtime campaigner against the resort, she accuses Trump International Golf Course Scotland of using photographs taken on mobile phones by two staff and a member of the public without her consent or knowledge, and is seeking up to £3,000 in damages.
At the time, TIGCS was not registered to use or hold personal data in breach of the UK's strict data protection legislation, despite having an extensive CCTV system and holding records for thousands of customers, its staff and its suppliers.
Edinburgh sheriff court heard evidence from police witness statements that Trump employees had been told to follow Beyts and a friend, Sue Edwards, and had then photographed Beyts at a distance as she urinated.
On the first day of her action against TIGCS, Beyts told sheriff Donald Corke she was being treated for incontinence on the day she and Edwards had decided to walk through the course under Scotland's right-to-roam legislation.
Beyts insisted she had taken every possible precaution to avoid being seen as she ducked down behind a dune to urinate "rather urgently". She told the court it was late afternoon, raining and misty, and no one could be seen from where she was.
As she and Edwards walked back toward the club house, they were confronted by the resort's course manager and a local newspaper photographer who both arrived in an estate vehicle. The Press and Journal photographer took photographs without permission.
Neither man said anyone had taken photographs of her allegedly urinating. Days later, two police officers arrived at her home at 10pm to say she was being charged under the Civic Government (Scotland) Act with urinating in public in a manner likely to cause annoyance.
"I was really quite upset," Beyts told the court. She said she was a very experienced and law-abiding hillwalker who paid very close attention to the countryside code, and had never been arrested or charged before. "I had taken all possible steps to ensure I wasn't viewed. I was also upset [because] I had had a conversation, possibly with the men who had filmed me afterwards and not a word was mentioned to me."
The nuisance case was eventually dropped by prosecutors after Beyts refused to accept an official warning.
The court then heard that Edward Irvine, 23, an irrigation technician, had told police in a statement that he and a senior security officer, named in court only as Jacob, had been instructed to follow the two women after Irvine had spotted them crossing the course on a public right of way near the clubhouse.
In court, Irvine admitted he had read and signed that statement but changed his evidence, denying he had told the police he had "driven to the eighth tee to keep an eye on her". Irvine told the sheriff he found the police interview confusing.
Irvine said he and Jacob had then joined Steve Wilson, the course manager, on one of the highest points on the course, at the eighth tee, where they watched the two women walking. He said he had asked Wilson to join him there so he could show Wilson a patch of dry turf that needed irrigating.
He admitted taking a mobile phone photograph but insisted that Beyts had urinated on open ground, and was not hidden from view, as she had claimed. He did not show the photograph to anyone, and insisted that it was too unclear to identify Beyts.
Neither Wilson nor Jacob, the security guard, were called as witnesses by Trump's legal team.

Beyts read the court excerpts from a police notebook quoting an interview with Sarah Malone, an executive vice-president at the resort. Malone told police she had been shown mobile phone images by Wilson of Beyts allegedly urinating. She recognised Beyts, and called the police to complain.
Trump's lawyer Paul Motion questioned Beyts about a series of posts on the Facebook page for the campaign group
Tripping Up Trump
, where he said she appeared to be unaffected by her experience, despite her claim for damages for distress.
In one post she had urged anti-Trump activists not to be intimidated by security there. He said those posts suggested she was distressed about being charged, not about being photographed. Beyts said she was distressed by both things since she had never been in trouble with the police before.
The case continues.