Nicki Minaj's Husband Kenneth Petty Asks Judge To Allow Him To Travel For Their Child's Birth.











"This one na real yahoo girl no laptop" – Davido refutes Claim that he has a 3-year old Child
Get link

Facebook

Twitter

Pinterest

Email

Other Apps
One Ayotomide Labinjo, an Ibadan based 26-year old lady, said that she got pregnant for Davido after they slept together twice when the singer was in Ibadan.
The singer, a father of one, who is expecting a child with his
Georgia University
girlfriend,
Mandy
, refuted the allegations in a series of Tweets last night.
Davido called the lady a fraudster.
See his tweets below: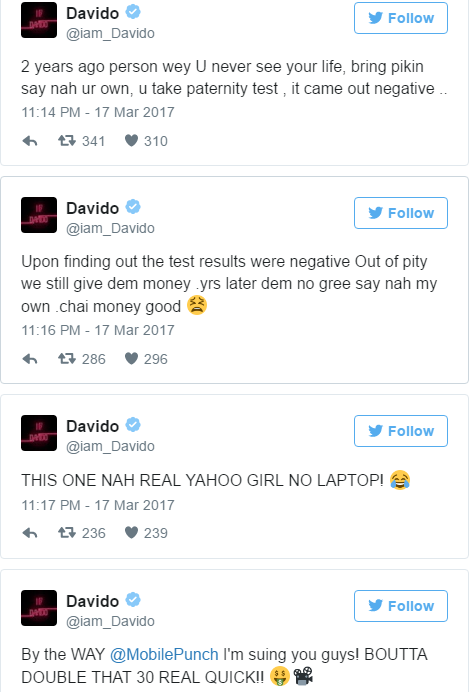 The source who broke the news claimed that the story will be published in today's (March 18 2017) PUNCH Newspaper.
This development is coming after the singer confirmed that he is expecting a second child with one Amanda aka Mandy, an American with African parentage.
Mandy is a 24-year old student at
Georgia University
.
She said she met Davido at a club in Ibadan and they slept together that same night. She added that she slept with Davido again when he was in Ibadan for Gbenga Adeyinka the 1st's Easter show.
"In February 2013, I met Davido at a club in Ibadan and he approached me and said he liked me. We became friends and got along. He only came to have a good time then. We left the club in his Range Rover Sports for a hotel around Challenge in Ibadan where we slept together. I left him there the following morning. Before then, I had no boyfriend so I was not used to going out but my friend invited me to the club that night.

We only met twice in Ibadan and we slept together on both occasions. The third time I would see him again was when I and my mother went to his house in Lagos more than a year after the birth of the baby. He preferred to call me Enitan because that is my other name.

When I told him I was pregnant at the end of March 2013, he said I should keep it but the following morning, he blocked me from his Blackberry Messenger list. I could not reach him throughout the period I was pregnant. On each of the days we met in Ibadan, he had a police and three body guards with him.

On the day the baby girl was being named, he added me again on his BBM and I sent him her pictures. He asked me what I wanted and I told him that he should take up the responsibility of the child. But he blocked me from his contact list again the next morning. We named the baby

Aanuoluwapo

but he preferred to call her

Vero

and anytime I asked for anything, he would embarrass me.

My mother was furious about his attitude so she wrote a letter to his father but he did not reply until our lawyer, the late

Bamidele Aiku

, wrote to him. That was when his father arranged for a DNA test and we went to Lagos for the test," she said.
The test revealed that Davido was "Excluded" from being the biological father of the child. The test was carried out on September 2, 2014 at
Clina-Lancet Laboratories
, Babatunde Jose Street, Victoria Island, Lagos.
Ayotomide said that the test was dud/falsified, adding that she saw the singer handing over a "big" envelope with lots of money to one
Dr. Alex Sogbola
who conducted the test.
Ayotomide's mother, Ropo who backed her daughter's claims, said:
I wrote a letter to Davido's father but there was no reply until our lawyer wrote to him. When he called me, I explained what happened between my daughter and his son and he arranged for the DNA. He said his son told him that he did not know my daughter.

He later sent his driver to Ibadan to bring us to Lagos for the test. After meeting him, he told the driver to take us to Davido's house. We met him and his brother Wale, his cousins

B.Red

and

Shina

. Shina told him he would not be a party to this (paternity tussle).

From there, we went to a hospital, Davido was in another car. I was suspicious of the whole set up because there was no indication that the facility could handle DNA test. My daughter was called upstairs with Davido and the child. My daughter was left outside a door but out of curiosity, she opened the door and saw Davido giving lots of money to the doctor after his father had already paid for the DNA test.

Davido and the baby's blood samples were only taken so I asked the doctor why he did not take that of my daughter because Davido's father had told me that he paid for the three people at N65,000 each. They asked us to come back after two weeks but the result came out after seven days. Davido's father sent a car to bring us to Lagos again for the result. Davido had left the country then. The result showed that Davido was not the father but my findings after that showed that only blood test was carried out and not DNA test.
Ropo, who said she lost her husband 16 years ago, added that she does not believe a DNA test was carried out. She said she had told Davido's father that she would go to a government hospital for another DNA test when she has the money.
She said: "I have written Chief Adeleke (Davido's father) to do me a favour by presenting Davido on the day of the test. From what I know, hair sample or saliva swab and not only blood sample are used for DNA test."
Speaking to Saturday Beats, Dr Sogbola said he remembered the case, adding that the result was not falsified.
"I remember the case. If I should check the system, I am sure I would still have the details. We also have a sister company in South Africa where the blood samples were tested and if you go to South Africa, you would get the exact same result we gave her here in Nigeria. I have every record and if I bring my records out, I would show you the picture of the lady when she came, the baby's picture and Davido's own as well.

I remember the lady's mother. They came in from Ibadan and the samples were not taken here. It was done in Verdic Hospital in Lekki, they paid for home service so I had to go and take the sample from Verdic Hospital. We gave the result out and the day it was out, I cannot remember if the lady was there but Davido's father collected the result from me.

I remember the girl said she was in school and I asked her where she met Davido but I could not keep asking questions because it was none of my business. He might have come for a show in her school and something happened between them. Even her mother's ring tone then was Davido's song. Even Davido's father said that he had been investing some money in them but they should give him some time to get the DNA done so that they could take charge of the child. That was what he said. Before the test was conducted, the man had been sending money to them. He sent a car to pick them from Ibadan for the test.

The second DNA that was done for Davido's baby,

Imade

, I also conducted the test. I can tell you that I have never collected any huge sum from Davido ever since I have come in contact with him. He has never given me even N2,000 despite the fact that he has money. I don't know what the girl wants but if it is another DNA, then that is between her and Davido. She can have a retest anywhere else in the world. I am sure she has a copy of that result. Even if there is a foul play here, would I do it as well with the people in South Africa? If I do a foul play with any DNA result, it would not only affect us here in Nigeria but also our office in South Africa. So if they are suing us here, they are also suing our branch in South Africa," he said.
When contacted, Davido's manager,
Asa Asika
said that the story is false.
Asa said via email: "Apologies for the delayed response, I have been flying. This is not a true story, thanks for reaching out to clarify. Thanks."
Get link

Facebook

Twitter

Pinterest

Email

Other Apps
Popular posts from this blog
Helicopter was on mission to scare troublemakers, says IGP
• PDP kicks, says explanation 'speaks volumes'
• Dickson rejects results, says election was military coup The Inspector General of Police, Mohammed Adamu, yesterday blamed the
Operatives of the National Agency for the Prohibition of Trafficking in Persons, NAPTIP, have arrested a 62-year-old man in Kano State for chaining and locking up 16-year-old
Truth is bitter, only the smart ones will accept it to become better. To describe Kizz Daniel as an Artiste, the word "Talented" is an understatement, he has proven