Nicki Minaj's Husband Kenneth Petty Asks Judge To Allow Him To Travel For Their Child's Birth.











Spanish woman given jail term for tweeting jokes about Franco-era assassination
Get link

Facebook

Twitter

Pinterest

Email

Other Apps
Cassandra Vera founded guilty of glorifying terrorism in her posts about 1973 killing of prime minister Luis Carrero Blanco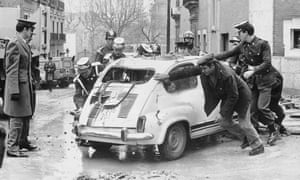 The wrecked car of Spanish prime minister Luis Carrero Blanco after an Eta bomb attack in Madrid in 1973. Photograph: Keystone/Getty Images
A Spanish court on Wednesday sentenced a young woman to jail for posting jokes on
Twitter
about the 1973 assassination of a senior figure in the Franco dictatorship.
Spain's top criminal court, the National Audience, found Cassandra Vera, 21, guilty of glorifying terrorism and humiliating victims of terrorism and handed her a one-year jail
term.
She is unlikely to go to jail because those convicted of non-violent crimes with a sentence of under two years are not imprisoned.
Vera published 13 tweets between 2013 and 2016 about the assassination of Admiral Luis Carrero Blanco, who was dictator Francisco Franco's prime minister and heir apparent. He was killed in a car bomb attack in Madrid on 20 December 1973 carried out by the Basque separatist group Eta.
The explosion blew the car Carrero Blanco was travelling in over the roof of a church where he had just been attending mass. "ETA combined a policy against the use of official vehicles with a space programme," read one of the posts. Another said: "Did Carrero Blanco also go back to the future with his car?"
The case has raised questions about freedom of expression in
Spain
and Vera has received much support. The leader of far-left party Podemos, Pablo Iglesias, accompanied her to her trial.
Even the granddaughter of Carrero Blanco attacked the move by public prosecutors to charge Vera and put her on trial, saying in a letter sent to daily El Pais in January that while the jokes were in poor taste they were not worthy of such legal action. "I'm scared of a society in which freedom of expression, however regrettable it may be, can lead to jail sentences," Lucia Carrero Blanco wrote.
Get link

Facebook

Twitter

Pinterest

Email

Other Apps
Popular posts from this blog
Helicopter was on mission to scare troublemakers, says IGP
• PDP kicks, says explanation 'speaks volumes'
• Dickson rejects results, says election was military coup The Inspector General of Police, Mohammed Adamu, yesterday blamed the
Operatives of the National Agency for the Prohibition of Trafficking in Persons, NAPTIP, have arrested a 62-year-old man in Kano State for chaining and locking up 16-year-old
Kenya on Friday became the third country to start routinely innoculating infants against malaria, using the world's first vaccine to combat a disease that kills 800 children globally every day. The vaccine -- RTS,S -- targets the deadliest and most common form of malaria