Nicki Minaj's Husband Kenneth Petty Asks Judge To Allow Him To Travel For Their Child's Birth.











Perfectly painted lips take time and patience, but nothing says glamour quite so well as a high-sheen red lipstick
Get link

Facebook

Twitter

Pinterest

Email

Other Apps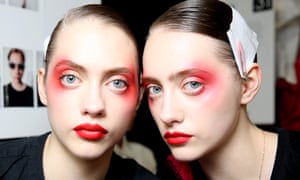 A glossy red lip is unashamedly high maintenance. It doesn't lend itself to rushed weekday mornings, scoffing a piece of toast while running for the bus. Oh, no. It needs attention and care. And that is why nothing will ever beat it in the high glamour stakes. It's pure queen bee. Perfect with swept back hair and huge earrings, as seen on the Kenzo SS17 runway. A
matt base and high-shine clear top coat works well to create the look, but there are some brilliant gloss lip paints that hold their own, too. Brush on and be fabulous…
Get the look
Now's the time to…
Get a sweat on. PS… Work Out is the latest longwearing cosmetics range from Primark, promising to stay in place regardless of whether you're on the treadmill, or changing a tyre on the A45. Prices from £1.
Get link

Facebook

Twitter

Pinterest

Email

Other Apps
Popular posts from this blog
Helicopter was on mission to scare troublemakers, says IGP
• PDP kicks, says explanation 'speaks volumes'
• Dickson rejects results, says election was military coup The Inspector General of Police, Mohammed Adamu, yesterday blamed the
Operatives of the National Agency for the Prohibition of Trafficking in Persons, NAPTIP, have arrested a 62-year-old man in Kano State for chaining and locking up 16-year-old
Kenya on Friday became the third country to start routinely innoculating infants against malaria, using the world's first vaccine to combat a disease that kills 800 children globally every day. The vaccine -- RTS,S -- targets the deadliest and most common form of malaria