Nicki Minaj's Husband Kenneth Petty Asks Judge To Allow Him To Travel For Their Child's Birth.











Keystone XL pipeline: Trump issues permit to begin construction
Get link

Facebook

Twitter

Pinterest

Email

Other Apps
President to officially announce plans Friday to allow TransCanada to start controversial project that state department claims serves national interests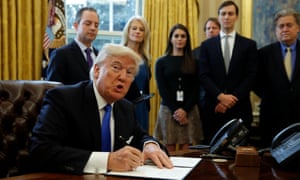 Trump signs executive order to advance construction of Keystone XL pipeline in January, a decision that activists say will have negative impact on the environment and indigenous people. Photograph: Kevin Lamarque/Reuters
The
Trump administration
has issued a presidential permit to pipeline builder TransCanada to build the Keystone XL pipeline.
White House press secretary Sean Spicer
tweeted
that Donald Trump would discuss the pipeline later Friday morning.
The state department says that it is confident that building the pipeline serves the US national interest. That is the opposite conclusion to the one the state department reached
during the Obama administration.
"In making his determination that issuance of this permit would serve the national interest, the under secretary considered a range of factors, including but not limited to foreign policy; energy security; environmental, cultural and economic impacts; and compliance with applicable law and policy," the department said,
according to the Hill website
.
The remarks contrasted sharply with Barack Obama's comments in November 2015, when he rejected the Keystone XL deal after seven years of political debate and grassroots campaigning.
"America is now a global leader when it comes to taking serious action on climate change," declared Obama then.
"Frankly, approving that project would have undercut that global leadership, and that is the biggest risk we face: not acting."
The US portion of the proposed
Keystone XL pipeline
is 1,179 miles long and will carry 800,000 barrels of tar sands oil from the fields in Alberta, Canada, to Steele City, Nebraska, where it meets another Keystone pipeline to send the oil to refineries on the gulf coast.
Grassroots campaigners against Keystone argued against environmental issues and the risk of spill.
The pipeline is to run over the Ogallala aquifer, a huge underground reservoir in the Great Plains that provides water access to millions, including several Native American tribes.
Although the state department noted the economic impact in its decision, the project will result in
only 35 permanent jobs
after initial construction.
The permit was signed by Tom Shannon, a career diplomat serving as undersecretary of state for political affairs. That is because secretary of state Rex Tillerson recused himself due to his previous work running Exxon Mobil.
Just four weeks after Obama's halted the Keystone XL pipeline, the US joined nearly 200 nations in pledging to cut carbon emissions in the the historical Paris climate deal.
Throughout the election campaign Trump promised to withdraw the US from the Paris accord, although in late November
he said he had
an "open mind" about the plan.
Get link

Facebook

Twitter

Pinterest

Email

Other Apps
Popular posts from this blog
Helicopter was on mission to scare troublemakers, says IGP
• PDP kicks, says explanation 'speaks volumes'
• Dickson rejects results, says election was military coup The Inspector General of Police, Mohammed Adamu, yesterday blamed the
Operatives of the National Agency for the Prohibition of Trafficking in Persons, NAPTIP, have arrested a 62-year-old man in Kano State for chaining and locking up 16-year-old
Zlatan Ibile
 has sparked online debate after releasing a snippet of his song dissing Tacha's body odour.
Nigerians have reacted following the release of a snippet video by musician, 
Zlatan Ibile
mocking