Nicki Minaj's Husband Kenneth Petty Asks Judge To Allow Him To Travel For Their Child's Birth.











Samsung's acting head indicted on bribery charges as scandal grows
Get link

Facebook

Twitter

Pinterest

Email

Other Apps
Lee Jae-yong will almost certainly face trial amid corruption claims that have already led to the president's impeachment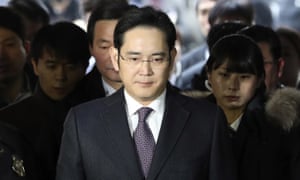 Later on Tuesday, Lee, who is officially Samsung's vice-president but has in effect run the
company since his father suffered a heart attack in 2014, will be charged with bribery, embezzlement, hiding assets overseas and committing perjury before parliament, prosecutors said on the final day of their investigation into a scandal that has rocked the country's political and business worlds.
The four executives, who all face the same charges as Lee except perjury, are the Samsung group's vice-chairman, Choi Gee-sung, and president, Chang Choong-ki, as well as Samsung Electronics' president, Park Sang-jin, and executive vice-president, Hwang Sung-soo.
Some of the executives will resign and leave Samsung, but Lee is expected to stay on as de facto head of the company if there is a trial.
The firm, whose group revenues are equivalent to a fifth of South Korea's GDP, has so far declined to comment on the charges, but this month it said it had "not paid bribes nor made improper requests to the president seeking favours".
The scandal has ensnared government officials and business figures, and could soon topple Park, the daughter of a former South Korean dictator. She became the country's first female president in early 2012.
Choi, who has denied charges of attempted fraud and abuse of power, is accused of using the money for personal gain.
Samsung was the biggest single donor to the foundations, which Choi had set up to support Park's policy initiatives. It is also accused of separately giving Choi millions of euros to fund her daughter's equestrian training in Germany.
In return, Lee allegedly sought government approval for the contentious $8bn merger of two Samsung affiliates in 2015 – a move that would smooth his path to the top of the entire Samsung group.
The merger was opposed by many shareholders, but went through after the national pension fund – a major Samsung shareholder – approved it.
On Tuesday, the firm said it was dismantling the division that makes key decisions relating to its business strategy. However, Chung Sun-Sup, the head of chaebol.com, a private watchdog forum on conglomerates, said: "It is yet to be seen whether this is another cosmetic measure aimed to divert public criticism."
Chung added: "[In the past] Samsung has dissolved group-controlling organisations when it got caught in breach of laws, only to revive them afterwards under different names."
He said the Lee family could be "expected to continue wielding power and influence over the whole group".
If her impeachment is upheld, Park would immediately lose her immunity to criminal indictment and South Koreans would have to elect a new president within 60 days.
Get link

Facebook

Twitter

Pinterest

Email

Other Apps
Popular posts from this blog
Helicopter was on mission to scare troublemakers, says IGP
• PDP kicks, says explanation 'speaks volumes'
• Dickson rejects results, says election was military coup The Inspector General of Police, Mohammed Adamu, yesterday blamed the
Zlatan Ibile
 has sparked online debate after releasing a snippet of his song dissing Tacha's body odour.
Nigerians have reacted following the release of a snippet video by musician, 
Zlatan Ibile
mocking
Kenya on Friday became the third country to start routinely innoculating infants against malaria, using the world's first vaccine to combat a disease that kills 800 children globally every day. The vaccine -- RTS,S -- targets the deadliest and most common form of malaria